Garage Saling
Garage and Yard Sale Shopping Tips
for the Thrifty Shopper
Everything I needed to know about garage saling I learned from my thrifty mom. She was the queen of garage sales.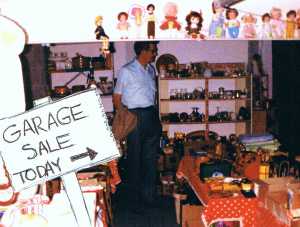 Garage and yard sale shopping were an art form to my mom. About a dozen years ago, she gave a talk to her church women's group on being a frugal shopper. Many of the women there gave examples of how she had found deals for their families and of her generosity.
A couple of the women shared about how she had found them houses for amazingly low prices (though she wasn't a real estate agent). She even found free housing for one family for a whole year! In addition to the big things (like houses) she found a myriad of clothes, household linens, gadgets, toys and books.
Yard Sale Tips from My Thrifty Mom
Find garage and yard sale ads in your local paper or online before going out. It is better if you do this the night before so you aren't stressed out that day. You may be able to remember if garage sales or yard sales at particular houses or neighborhoods were good or bad in previous years.
Plan a route that is direct so you're not spending your savings on gas. Block sales, neighborhood sales and sales at schools or churches can be advantageous to finding deals from many families.
Go with a friend. You could take turns driving each time you go. This is also helpful if you need to bring children with you. One of you can seriously look at the sales while the other entertains the kids.
Bring a snack and water bottle with you. A frugal shopper is a prepared shopper.
You are under no obligation to stay at a sale. Sometimes you will find they have baby clothes and you need clothes for teenagers. Or, you may find that items aren't priced or are even dirty. Turn around and leave.
Decide how much you can "afford" to spend. Have small bills and change with you. Don't expect that you can write a check.
It is helpful to have a tape measure with you to determine if clothes will fit in the waist or length. You may even want to write down your family members' sizes and measurements and have them on a card in your wallet.
If it is near the end of the sale, it is okay to ask if the price could be lowered if you think it is high. If the answer is no, don't argue. If you have your kids or a friend with you, they are watching and listening. Is the item really a deal if you get a bad reputation or teach your children to argue to try to get their way?
When you or the children start to lose steam, call it a day. It is better to leave when it is still a positive experience. There will be other days to find good deals.
Garage saling can be a great way to be a thrifty shopper. You can always try it a few times and learn from your experiences. The more successes you have, the more you will be encouraged to try it again (and again).
Thinking about having your own sale? Here are some yard sale tips that will help you have a successful sale.
Return from Garage Saling to Best Ways to Save Money
Return from Garage Saling to Financial Freedom Advantage (Home Page)