Christmas on a Budget
Best Ways to Save Money During the Holidays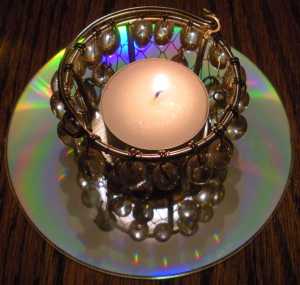 With a little thought and planning, Christmas on a budget can be fun as well as festive. Read on and you will learn about frugal Christmas decorations, cheap, stocking stuffers and frugal Christmas gifts.
There are many ideas for gifts and decorations that can be fun to make with your family or by yourself. Planning ahead and incorporating a frugal lifestyle (even during the holidays) will help you reduce stress and enjoy the holiday season.
Frugal Christmas Decorations
Old CDs can be re-purposed in many crafty ways when trying to do Christmas on a budget. One way is to use them under a candle holder. The light reflects off the disc and looks quite festive.
Another use for old CDs is to make tree ornaments. I adhere a photograph to the CD and decorate it with glitter paints and hang it with a cord or ribbon.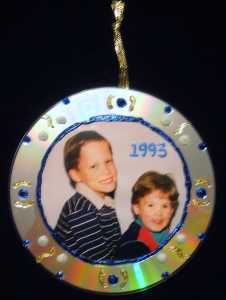 An additional idea for Christmas decorating on a budget is to make ornaments out of hard plastic, such as the kind that comes as packaging.
I cut pieces of plastic that don't have printing, price stickers or bends, and save them in a box all year. I've made three types of ornaments in this way, pictured here, as take-home favors for a Christmas brunch (200 per year).
I have a paper pattern under the plastic and use glitter paint to trace the pattern. When dry, I cut out the shape, hang by a ribbon and attach the "extras." The shapes are limitless that you can make and the lights of the Christmas tree shine through them.
A great recipe for making ornaments is to mix equal parts of cinnamon and applesauce together to form a "dough." Obviously, using this much cinnamon makes them smell wonderful throughout the holiday season and for many years to come.
Once you have the dough made, you can roll it out and use any cookie-cutter shape that you want. If you plan to use a hanger or ribbon, use a straw to make a hole at the top of the ornament. You can either bake the ornaments in an oven at a low setting or let them dry over a few days. One year, I got really creative and braided three cinnamon ropes together and made it into a wreath. I put a photograph in the center of each wreath. These ornaments are great when trying to do Christmas on a budget!
A couple of other ideas to help you be successful with Christmas on a budget involves lights and stockings. It is a great idea to buy a few strings of Christmas lights after Christmas so you are ready for the next year. The lights are discounted anywhere from 50-90% after the holiday.
When our traditional, Christmas stockings that were made of felt begin falling apart, we weren't sure what to do. Our mom, the creator of the stockings, had passed away but we still wanted her grandchildren to be able to remember this gift of love that had been made for them. So, I bought some stockings and hot glue-gunned the felt shapes onto the new stockings. I used glitter paints to write each person's name on them and to add some embellishments.
Cheap, Stocking Stuffers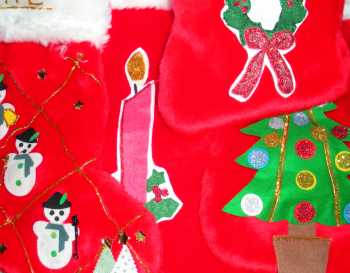 There are many ideas to fill those stockings with fun, inexpensive items. One of my favorites is shopping at a dollar store. Also, these stores offer great ways to fill shoe boxes that many organizations send overseas at Christmastime to needy children.
Another great way to achieve Christmas on a budget is by stocking up throughout the year with items found for free or at a low price. One of my favorite places to do this is at Menards (a home improvement store) with their rebate program. Years ago, I bought tool boxes, belts and every item needed to fill them for free or very inexpensively. These were given to our children over a few years time. When they go off on their own, each child will have a complete tool box.
Another place to get great deals is at Walgreens with their Register Rewards program. Many items turn out to be free after you redeem the reward on your next visit to the store. Shop clearance areas at stores wherever you shop.
One final thought on cheap, stocking stuffers is that you can buy larger packages of candy, lip gloss, pencils or small toys and put them in individual bags. Ziploc makes patterned bags or you can use plain ones.
Frugal Christmas Gifts
There are many ideas for inexpensive, Christmas gifts to make as well as frugal Christmas gifts you can buy. For homemade gifts, consider the following:
"Coupon books" with services you will provide for someone (babysitting, shoveling, baking)

Homemade foods:
Jam
Candy
Cookies
Candied nuts
Trail mix, gorp or party mix
Frozen meals that only need heating (a favorite for senior citizens living alone)
Photo collages, photo books or DVDs
Decoupaged plate, made by decoupaging fabric on the back of a clear plate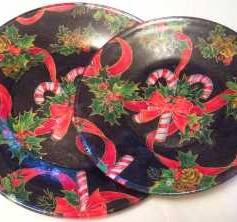 When you start thinking about Christmas on a budget, you will begin to think of many frugal, Christmas gifts that you can purchase. The stores suggested in the cheap, stocking stuffers paragraph offer some items that you could wrap and put under the tree.
For example, at Menards, I purchased four Sherpas (a stadium/picnic blanket, poncho and seat cushion all in one product). I received back, in the mail, a store merchandise credit, for the full amount minus sales tax.
Another product I purchased was a battery-operated, salt and pepper mill that lights up so you can see how much salt and pepper is being dispensed. The rebate allowed me to purchase two sets, each costing two dollars. We are enjoying using one set and the other is going to be a gift (ssh, I hope the recipient isn't reading this).
Many items that you want to purchase can be found online, or at the very least, located at a local store. You can use various search engines to find comparisons of price and even if the item is in stock. Not running to every store saves on gas and is an excellent way to live a frugal lifestyle.
Another idea is to redeem points accrued from your debit cards to "purchase" gift cards. These can then be given as gifts.
One final idea for frugal Christmas gifts is to group gifts that are theme-related and put them in a gift basket or gift bag. For the movie buff, you could make a grouping of a gift card to buy a favorite DVD, some microwave popcorn and other movie treats. For the woman who needs some relaxation you could group some bubble bath, a candle and a CD. You get the idea. . .
Unique, Photo Christmas Cards
Our family has sent unique, photo Christmas cards for twenty-five years. We mail an actual photograph as a postcard. Mailed in this manner, our cards have reached four continents successfully. This is another great Christmas on a budget idea!
We take a regular photograph, make copies and divide the blank side with a pen-drawn line. To the left, we write our greetings and on the right we address and stamp it. This has proven to be one of the best ways to save money for us. We save the cost of an envelope, cardstock, printing and the difference between a first class and a postcard stamp. Currently, we print our greetings and addresses on labels on the computer. Last year, we also used a photo editing program, Picnik, to edit our photo so we could actually put three photos on the picture side along with some text.
With rising postage costs and so many people connected online, many people are choosing to send their greetings as emails or on facebook. Obviously, the savings of doing this are huge. Also, online you can access free e-cards to send to your family and friends. One site I really like is DaySpring.
Finally, if you have more time than money, you could design your own Christmas cards that are one-of-a-kind. You could make them on the computer or use rubber stamps. One thing to keep in mind if you are making your own cards is to actually count the cost of all supplies, including costs to produce them.
Once you start thinking about the best ways to save money during the holidays, you'll begin to think of all sorts of new ideas of how to live frugally during this most, wonderful time of the year. Hopefully, all these ideas will help you to keep your Christmas on a budget.
---
Thanks to Beth, my frugal and crafty cohort for contributing this great post about celebrating Christmas on a budget!
---
Return from Christmas on a Budget to Best Ways to Save Money
Return from Christmas on a Budget to Financial Freedom Advantage